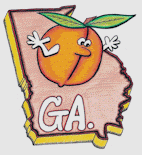 Welcome to the NANFA Georgia Region!

This is your standing invitation to visit one of NANFA's newest active regions, and the largest one east of the Mississippi River. With over 250 known freshwater fishes, Georgia ranks near the top of the diversity lists.

Whether you live in Georgia, or just find yourself passing through, we encourage you to call, write, or email to find out what we're doing. Below, you'll find links to past collecting trips with text reports and photos, plus a list of Georgia's freshwater fishes.


Steven A. Ellis
1500 D Diplomat Lane
Kennesaw, GA 30144


(

678

)

581-9603
sellis2000@earthlink.net
Q&A with Steven Ellis
NANFA: Can you tell us about your background and interests, and why you volunteered to be a regional representative?
Steven: I was born and raised in Kansas City, MO, and make my home now in Kennesaw, GA. I have four grown children and six grandchildren. I served in Viet Nam (Army, `71-'72) right after high school. I have a BA in History and a BBA in Management from Kennesaw State University. I first learned about native fishes (and NANFA) from a friend in Louisville, KY, in 1973.
I volunteered to be a regional representative to further NANFA's interests in Georgia, and to help coordinate the activities of fellow Georgia collectors. The sharing of information in a group setting is key to understanding our environment and the best uses of our natural resources. The largest state east of the Mississippi River, Georgia is a paradise for native fishes. Now that we are on the NANFA map, I want to encourage fellow GA NANFA members and visitors alike to contact me about our activities and goals within the state. Or, if you just need an extra set of hands when you go collecting, give me a shout!
NANFA: Please describe the boundaries of your region.
Steven: I am comfortable as a statewide rep. However, if others show an interest in adopting a portion of the state, that's fine with me too. I have come to appreciate the team effort concept in this sort of endeavor, despite being a loner by nature. GA is a huge state, and could easily accommodate multiple reps.
NANFA: What regional activities have you been involved in?
Steven: Geez, that won't be easy to answer briefly, but I'll try not to ramble! In the past year or so we have had multiple collecting trips within the boundaries of the state, as well as joint efforts with neighboring regions in a loose network euphemistically referred to as the TN Valley Gang. GA trips have included visits to Colochee Creek (near Louvale), Allison Creek (Rising Fawn), Hothouse Creek (near Blue Ridge), Soque River & Panther Creek (near Gainesville), Raccoon Creek (near Cartersville), Salacoa Creek (near Fairmount), a swamp near Augusta, as well as numerous sites on the Coosa, Etowah, Coosawattee, Cartecay, and Chattahoochee rivers. Of course the biggie so far this year was the Okefenokee expedition in March. So, we've made a good start at sampling the four corners of the state.
TN Valley outings have included trips to Paint Rock, Sipsey River, and Little River in AL; the Conasauga River, Hiawassee River, and TN River Gorge in TN; and a January 2002 trip through southern SC.
Over the winter I put together (with editing help from professional fish folk) a GA species list in lieu of the "Fishes of GA" book which has never been written. This is a bare bones checklist, but it provides useful field information, including protected species. I have located a gentleman who is reported to be working on writing the GA fish book, and I'm hoping to find a way to get involved with that crucial project in some fashion. Otherwise, although it will be a slow process, I plan to add photographs to the checklist as an additional field resource.
Beyond that, I'm trying to connect with the people who are going to build the new Atlanta aquarium. If possible, I want to make a strong bid for the heavy inclusion of GA native fishes, and perhaps help with collecting them.
NANFA: You've been a busy fellow. Thanks, Steven!
---